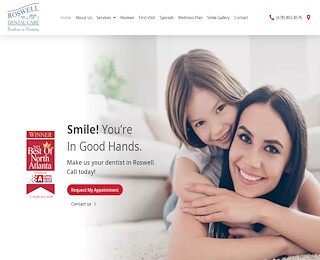 At Roswell Dental Care, we take our responsibility seriously to provide quality cosmetic dental care to our community. As authorized providers of dental implants in Roswell, GA, we offer an affordable way to replace missing teeth without the daily hassles of dentures. Since implants permanently replace lost teeth, the investment you make will last a lifetime. If you'd like more information on implants, you'll find a wealth of information located in our Library of Articles section online. We also welcome you to book a courtesy consultation to speak with us regarding your smile goals.
What Are the Benefits of Implants?
Compare permanent implants with dentures, and you'll see why so many patients request implant treatment as their choice for tooth replacement:
Exceptional comfort- implants feel identical to natural teeth
No restrictions on the foods you eat
More durable than dentures
No adjustments or re-fitting required
Smile with greater confidence
No slurred speech or slipping
Paste-free, permanently implanted
Better value, over time
Stop wondering how implants will change your life and meet with our team at Roswell Dental Care for a complimentary consultation to learn about additional advantages of dental implants in Roswell, GA. We want to address your questions and concerns while providing you with ample time to compare available options. If you're a candidate for implants, we'll offer take-home materials to look over with your loved ones in the comfort of your home.
Are Dental Implants Costly?
The upfront costs are a bit higher than modern dentures, but in the long run, you'll find them a very cost-effective option, since implants last longer than dentures. Unlike dentures that require replacement about every ten years, expect implants to last several decades before needing attention from your dentist. You'll find many additional reasons to love your new smile when you opt for advanced dental implants in Roswell, GA- call us at Roswell Dental Care for a new-patient appointment to get started.
Painless Implants
We're pleased to offer the newest sedation options to ensure your comfort throughout treatment. Fear of the dentist chair keeps patients from seeing their dentist when they need preventive services, resulting in loss of teeth or advanced decay. We restore smiles at Roswell Dental Care with the latest restorative dentistry procedures, including All-On-4 Implant Bridges and individual Dental implants. You'll find more information on both of these treatments on our 'Services' page.
Affordable Dental Implants in Roswell, GA
Patients enjoy the best features of removable dentures and the comfort and permanence of implants with All-On-4 Implant Bridges, sometimes called All-On-4 Dentures. Discover all of the aesthetic and functional benefits of both procedures when you see us at your next dental visit at Roswell Dental Care. If you hide your smile during social events or avoid public get-togethers because of your smile, we can help you select the right procedure to give you back the confidence you've lost while revealing the inner you with every smile. Come in soon to see us- you'll be glad you did!
Dental Implants Roswell GA
Roswell Dental Care
(770) 998-6736
1570 Old Alabama Rd #102, Roswell, GA 30076
View Larger Map