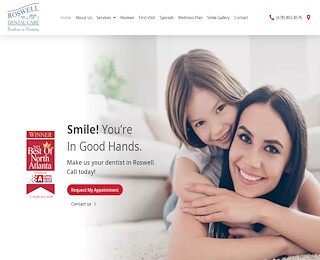 Several dental care facilities claim they are the best dentist in Roswell, GA; yet in the end, their commitment to providing great dental care falls short. At Roswell Dental Care, we let our patients speak to our commitment to providing nothing but the very best service to the Roswell community. We've been rated 'Best of North America' for the fourth year in a row by Appen Media Group- and we don't take lightly your trust in our ability to serve you.
What Does Being the Best Entail?
We believe being the best dentist in Roswell, GA means holding ourselves to a higher standard of excellence while providing the latest technology in dentistry. Our dedication to your beautiful smile also means we commit to an ongoing investment of resource to maintain a modern facility inclusive of state-of-the-art equipment and techniques. For this reason, you'll find we are one of the only dental clinics in the region offering the following services:
GLO Science & Opalescence Whitening
TAP Sleep Apnea Treatment
4-on-4 Implant Bridges
Hard & Soft Tissue Laser
DentalVibe
Are We Truly the Best?
While we may be a bit biased in the way we feel about the service we provide to the Roswell community, we honestly believe we are the best choice for all of your family's dental care needs. We've seen through the many years of treating patients in our practice that providing quality preventive dentistry is the best way to avoid costly future dental care and prevent fillings and more extensive restorative dental work. For this reason, we champion your efforts to avoid cavities by offering an in-house Wellness Program designed to fit your budget. Plan member benefits include:
Twice Annual Exams
Twice Annual Healthy Mouth Cleanings
Twice Annual Fluoride Treatments
One New Patient Comprehensive Exam
Limited Examination for Problem-Focused Care
X-Rays For Cavity Detection
Additional Periapical X-Rays
When Convenience is a Factor
If you're looking for a new dentist in the Roswell area, consider our convenient location as one of the best reasons to choose us. Our proximity to local shopping, entertainment, popular dining, and other Roswell amenities makes us a terrific choice- and is one of the reasons we are considered the best dentist in Roswell, GA. Selecting a dentist based on location could help you make your appointments on time and as scheduled.
What Our Patients Say About Us
You don't have to look very far to find 5-star reviews left on our website and elsewhere on the Web from patients who want to share their experience with others. Reading through some of our patient testimonials builds confidence in our ability to provide exceptional dental care to your family. If you're still not sure whether we're right for your family's dental care needs, we invite you to schedule a new patient visit and get to know us a little better while we assess your objectives and coordinate a treatment plan for each member of your family.
Best Dentist In Roswell GA
Roswell Dental Care
(770) 998-6736
1570 Old Alabama Rd #102, Roswell, GA 30076
View Larger Map